May 11, 2021
Dear Colonial Vet family,
We are still doing curbside appointments only at this time. Thank you for all your patience and understanding. We know last year and this year has been some of the most stressful and trying for all of us. We miss seeing and interacting with all of you in person and are hoping to open up the clinic to everyone later this year. For now, we are paying attention to the vaccination percentage and Covid case numbers and are looking forward to opening back up if the numbers continue to improve.
For your appointments, please call us at (734) 459-1600 when you pull into our lot, and we will come get your pet or bring out any medications or food for you to pick up. Payments can be taken next to your car or over the phone to minimize contact. For pets needing exams, you can wait in your car while we examine your pet and administer any vaccines or medications needed. You will be called to discuss the exam and any concerns or questions you may have. We promise that we will be gentle and loving with your pets like always and treat them like one of our own. Once your pet's exam is done, we will call you so you can pay over the phone and we will bring your pet back to your car. We do ask that you wear a mask when we come out to your car for everyone's health and safety.
If you need any medications or prescription diets, please make use of our online pharmacy where they will ship directly to your house: https://colonialvetclinic.myvetstoreonline.pharmacy
Thank you for your business and entrusting us with your furry family members. We appreciate all of you so much. With your support, we've been able to stay open this whole time and continue providing high quality care for all of you. We are praying for everyone's safety and health. Please don't hesitate to contact us at (734) 459-1600 if you have any other questions or concerns.
Take care,
Dr. Low, Dr. Walker, Dr. LaDronka and Colonial Staff
---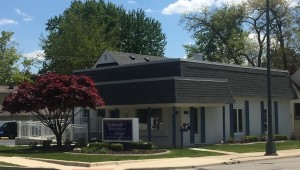 Come visit us to find an old-fashioned, personal veterinary clinic in Plymouth, offering "no hurry" appointments and Saturday hours. Come see our clinic at the corner of South Main Street and Hartsough in Plymouth, Michigan. We also serve the surrounding areas of Northville, Canton, Westland, and Livonia.
If you have already visited our clinic, please take a moment to rate us on Google+, and on Yahoo!. If you are happy with our services, please tell others, and "Like" us on Facebook. If you are unhappy with our service at any time, please let our staff know, so we can make it right and provide you the best veterinary care.
Click on the My Pet Portal link to the right to gain access to your pet's medical records and reminders 24/7. We also have a free mobile app for iPhone and Android users. Just go to the app store and search for the MyPetsWellness app. If you need login or password assistance, give us a call!
Lyme Alert! One in every 66 dogs tested for heartworm and tick-borne disease in Michigan was positive for Lyme disease. There were 100 cases of Lyme disease reported in Wayne County in 2018, up from 59 cases in 2017. We have even had some of our own patients become infected over the course of this year. We are now recommending Lyme vaccination as part of our core vaccines for dogs. Pets should also be on effective flea and tick-prevention year-round. The information sited above can be found at www.petsandparasites.org/parasite-prevalence-maps. This site also has information about tick prevention and other parasites of concern.
If you have any questions about our services or about your pet's health, please do not hesitate to contact us. Click here to contact us or for directions. We look forward to seeing you and your pets at our hospital in Plymouth.