June 7, 2021
Dear Colonial Vet family,
We are so excited to let you know that our clinic will open for in person appointments starting June 14. We will continue to offer the option of curbside appointments for the foreseeable future. Prior to your appointment, you will receive a questionnaire electronically which will allow us to streamline your visit. Please complete the questionnaire at least 24 hours ahead of your appointment. Technician appointments will continue to be curbside.
For all appointments, please call us at (734) 459-1600 when you pull into our parking lot and we will let you know when it's safe to come inside. If you want a curbside appointment, just let our staff know and we will come out to get your pet.
Due to our clinic's small size, we are limiting the amount of people in the building. Additionally, because we are in close contact with you and your pets, everyone in the building will still be required to wear a mask at all times, regardless of vaccination status. We're continuing this policy for everyone's health and safety.
Medication refills still require a 24 hours notice. For those filled at the clinic, please call us and we can bring the medication out to your car so that we can minimize crowding inside the clinic. You can also order your medications or prescription diets at our online pharmacy, which will ship directly to your house at https://colonialvetclinic.myvetstoreonline.pharmacy
Thank you for your business and entrusting us with your furry family members. We appreciate all of you so much. We have hired additional staff who love and care about your pets and family as much as we do and they are excited to meet you. Thank you for your patience as we readjust to being fully open and continue to train our new staff. Please don't hesitate to contact us at (734) 459-1600 if you have any other questions or concerns.
Thank you for your understanding, and we look forward to seeing you in person soon.
Dr. Low, Dr. Walker, and Colonial Staff
---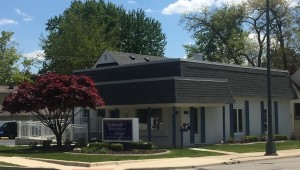 Come visit us to find an old-fashioned, personal veterinary clinic in Plymouth, offering "no hurry" appointments and Saturday hours.    Come see our clinic at  the corner of  South Main Street and Hartsough in Plymouth, Michigan.  We also serve the surrounding areas of Northville, Canton, Westland, and Livonia.
If you have already visited our clinic, please take a moment to rate us on Google+, and on Yahoo!. If you are happy with our services, please tell others, and "Like" us on Facebook. If you are unhappy with our service at any time, please let our staff know, so we can make it right and provide you the best veterinary care.
Click on the My Pet Portal link to the right to gain access to your pet's medical records and reminders 24/7.  We also have a free mobile app for iPhone and Android users.  Just go to the app store and search for the MyPetsWellness app.  If you need login or password assistance, give us a call!
Lyme Alert!  One in every 66 dogs tested for heartworm and tick-borne disease in Michigan was positive for Lyme disease. There were 100 cases of Lyme disease reported in Wayne County in 2018, up from 59 cases in 2017. We have even had some of our own patients become infected over the course of this year. We are now recommending Lyme vaccination as part of our core vaccines for dogs. Pets should also be on effective flea and tick-prevention year-round. The information sited above can be found at www.petsandparasites.org/parasite-prevalence-maps. This site also has information about tick prevention and other parasites of concern.
If you have any questions about our services or about your pet's health, please do not hesitate to contact us. Click here to contact us or for directions. We look forward to seeing you and your pets at our hospital in Plymouth.