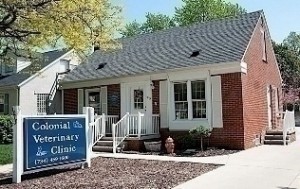 Come visit us to find an old-fashioned, personal veterinary clinic in Plymouth, offering one-hour appointments and Saturday hours. We will even stay late or come in early if it's more convenient for you!    We are located on South Main Street in Plymouth, Michigan across from the Dairy-Go-Round. We also serve the surrounding areas of Northville, Canton, Westland, and Livonia.
Breaking News! Click here for the latest from our state veterinarian about Canine Influenza and Equine Herpes Virus -1. Call us if you have any questions about your dog or horse, especially if it showing signs of respiratory disease.
If you have already visited our clinic, please take a moment to rate us on Google+, and on Yahoo!. If you are happy with our services, please tell others, and "Like" us on Facebook. If you are unhappy with our service at any time, please let our staff know, so we can make it right and provide you the best veterinary care.
Click on the My Pet Portal link to the right to gain access to your pet's medical records and reminders 24/7. If you had a  "Pet Profile" on our old website you will need to sign up again (sorry) but the new version is much easier and has a link to download the mobile app for your smartphone.
If you have any questions about our services or about your pet's health, please do not hesitate to contact us. Click here to contact us or for directions. We look forward to seeing you and your pets at our hospital in Plymouth.