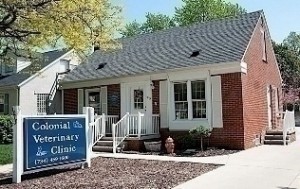 Come visit us to find an old-fashioned, personal veterinary clinic, offering one-hour appointments and Saturday hours. We will even stay late or open early if it's more convenient for you!   We  care for family pets like cats and dogs, but also for sheep, goats, pocket pets, and other animals. We are located on South Main Street in Plymouth, Michigan across from the Dairy-Go-Round. We also serve the surrounding areas of Northville, Canton, Westland, and Livonia.
If you have already visited our clinic, please take a moment to rate us on Google+, and on Yahoo!. If you are happy with our services, please tell others, and "Like" us on Facebook. If you are unhappy with our service at any time, please let our staff know, so we can make it right and provide you the best veterinary care.
Our Pet Profile feature is being upgraded and temporarily unavailable. In the meantime, please call the office if you need any information on your pet's medical history.
If you have any questions about our services or about your pet's health, please do not hesitate to contact us. Click here to contact us or for directions. We look forward to seeing you and your pets at our clinic in Plymouth, just minutes from Canton, Northville, Westland, and Livonia.